What do I do after a Car Accident?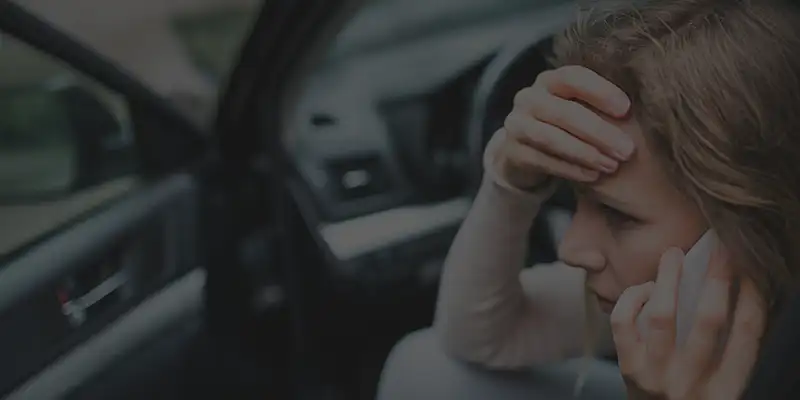 I was just involved in a car crash. What do I do now?
Car accidents have become a normal part of life in high-traffic areas like Southern Maryland. With increased development and commuter traffic, more cars are on our roads yearly.
And while none of us plans to be involved in a crash, an accident can change your life in the blink of an eye. So, you must keep calm and recall the tips below to help you navigate your next move after a car accident.
First, Stop and Get to Safety
The first thing you should do if you are involved in a car crash is to stop and get to safety.
Never leave the scene of a crash without exchanging information with the other driver involved. Doing so is a crime, and you could go to jail. Pull out of the travel lanes if you can move your vehicle safely. If you're in a situation where you don't feel safe, lock your doors and call 911. Turn on your flashers and use flares if available.
Call the Police
In Maryland, drivers are required to remain at the scene of a crash if someone has been injured. Fleeing the scene could mean jail or prison and facing substantial fines.
If there is damage to a vehicle or property but no injury, you are not required to call the police, but you are required to remain at the scene until the information has been exchanged.
Call an Ambulance if Needed
A driver involved in an accident has a duty to render assistance to a person injured in an accident. If the person requests medical treatment, or it is apparent that treatment is needed, the driver should call 911 to arrange for the person to be transported for treatment.
Exchange Information
Drivers must exchange information with each other following a crash when there is property damage, or someone is injured. The driver of each vehicle involved should give their name, address, and vehicle registration numbers, and if requested, show their license to the other drivers involved.
You should always get this information; write it down or plug it into your phone's notes app. You can also use your phone to take a license and license plate photo. The information must be given to anyone injured and the driver of any vehicle damaged in the crash.
Drivers are also requested to display their driver's license to the other drivers involved. Again, you should get this information and take a picture of the license. This will be helpful if the at-fault drivers deny they were operating the vehicle at the time of the accident. Ask for the phone number of each driver and each witness to the crash.
If a police officer is not present and the other driver cannot provide their information, then call the police immediately.
Help to Make Sure there is an Accurate Record of What Happened
If there are injuries, the police will prepare a police report. Provide accurate information to the police about what happened and who was involved. Anyone who witnessed the accident – whether bystanders, passengers, or other drivers should give their information to the police so they can be listed on the report.
If you don't know something or are uncertain, tell the officer. Never guess what happened. If the officer asks you if you are injured and are not certain, tell the officer that you are not certain rather than denying injury. It's not unusual for someone to feel okay immediately after being involved in a crash and then have significant pain later.
Take Pictures
You want to take photographs of the important things, but don't interfere with the police or risk danger to yourself or others. Use your phone to take pictures of the cars involved, any property damage, and the intersection or roadway in which the crash occurred.
It's normal for the resolution of a crash to be months or even years after the incident.
Sometimes intersections and roadways change between when a crash occurs and when a case goes to court. You'll want an accurate record of what happened.
Get Needed Medical Attention
Following the accident, get checked out by your doctor or local clinic. Even if you feel okay, it's still a good idea to have the fact that you were in a crash documented.
Sometimes you'll experience pain and discomfort a day or two later. Do not skip this step if you lost consciousness or were dizzy at any point during or after the crash! You could have a concussion or other head injury, which should get treated. Even in accidents with a minor impact, you could have a spinal cord injury which should be looked at as soon as possible.
Contact Your Insurance Company
When you get home, call your insurance company and tell them you've been in an accident.
Depending on the circumstances, you may be contractually obligated to contact your insurance company within a certain amount of time. Either way, it's a good idea to do so.
Your insurance company can help you with immediate needs, such as opening a property damage claim, helping you to get a rental, and starting a claim for personal injury protection (PIP). PIP is part of most Maryland automobile insurance policies and pays for medical care and lost wages. It's designed so that you have some money to take care of immediate needs following a crash.
Keep Organized
Keep a file or folder with the crash information. Include the police report, any information you exchanged with other people, photographs of the scene, vehicles, and identification documents. Don't just keep photos on your phone. These can be accidentally lost or deleted. Print them out and put them in the folder.
When you report your claim to your insurance company or the other party's insurance company, you'll be assigned an adjuster and given a claim number. This information should be kept in your file.
See an Attorney Before You Talk to Anyone
You'll likely get a call from an insurance company a day or two after the crash. Don't talk to insurance companies other than your own without speaking to an attorney first.
If your insurance company requests a recorded statement, you are obligated to provide that. You should consult with an attorney before doing so. You are never required to give a recorded statement to an insurance company that is not your own; generally, you should refrain from doing so.
We Are Car Accident Lawyers On Your Side
We hope you and your loved ones never experience the trauma of a car accident. At the same time, we hope this information has helped prepare you in case you are involved in an accident.
The personal injury lawyers at Baldwin, Briscoe, and Steinmetz have the experience and empathy to help you navigate the complexities of a car accident. Whether or not your case goes to court, you want an attorney whose reputation is to fight for you and not leave any money on the table.
We offer a free consultation for personal injury cases, including vehicle crashes. Set up your free consultation today.

https://www.baldwinbriscoe.com/wp-content/uploads/Woman-in-an-accident-calling-police..webp
400
800
Richard Steinmetz
https://www.baldwinbriscoe.com/wp-content/uploads/Baldwin-Briscoe-and-Steinmetz-Logo.svg
Richard Steinmetz
2023-01-18 14:37:40
2023-03-17 13:24:33
What do I do after a Car Accident?