Rick Steinmetz Secures $200,000 Jury Verdict in Charles County Car Crash Case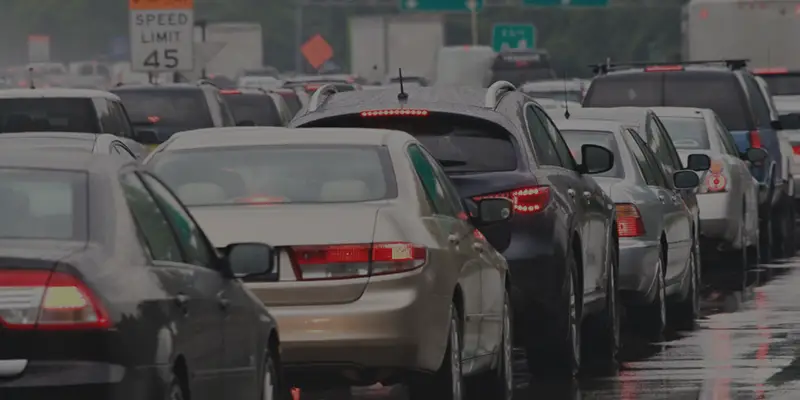 To Go or Not to Go to Trial
Car accidents in Southern Maryland can get complicated quickly. Many people who contact us for a free consultation face long-term injuries, which may not surface for weeks or months after the accident. So the decision to accept a settlement from the insurance company or go to court weighs heavily on our clients.
In January 2020, Rick Steinmetz, a partner with Baldwin, Briscoe & Steinmetz, secured a significant win on behalf of our client with a jury verdict in Prince George's County Court.
Our client, "JB," was injured in a car accident in Charles County, MD. Our client was a passenger in her daughter's car on Route 301. The defendant failed to slow down or stop in heavy traffic and violently struck our client's vehicle. There was significant damage to the vehicle.
The case was complicated because while our client suffered injuries to her neck, back, and knees, she had pre-existing conditions. At issue in the case was our client's total knee replacement surgery, which took place a few months before the trial.
Before deciding whether or not to go to trial, the defendant's insurance company offered $20,000 to settle.
After meeting with "JB," together, we decided to battle the low settlement offer in light of our client's injuries.
Deciding to Go to Trial
During early negotiations, the defense argued that the knee replacement was necessitated by our client's arthritis before the crash. Our client had seen a Rheumatologist and tried physical therapy before having the knee replacement performed. In addition, our client had previously had surgery in which she had a disc removed from her neck.
The defendant hired an orthopedic doctor to discredit our client's claim. Their doctor said that our client had minor strains and sprains and scraped up her knees and that all those injuries had healed. The defense claimed the crash did not cause the significant injuries that our client was claiming. They claimed she had fully recovered from the crash without any residual impact or disability.
Fighting for Our Client
The case went to trial, and the defendant emphasized that our client had waited four years to have knee surgery. We informed the jury that she waited to exhaust more conservative treatment options like medication, injections, and physical therapy.
A pivotal moment was the testimony of our client's doctor. He explained to the jury that some of the degenerative changes that our client experienced would take weeks or months to become apparent. Because they were not immediately visible after the crash did not mean they weren't related. Our client's doctor testified that her trauma accelerated the arthritic problems, requiring her to need surgery sooner.
The defendant admitted to causing the crash and testified that he was traveling twenty to twenty-five miles per hour prior to the crash. In the closing arguments to the jury, we broke that down into feet per second to reveal how much damage even low-speed impacts can cause.
In closing, the defendant argued to the jury that the knee injury and surgery were unrelated to the crash. He argued that, eventually, she would have needed surgery and that the jury shouldn't compensate the plaintiff for the surgery. The defense attorney suggested that the jury award $20,000 to $25,000 in damages "for relatively minor injuries."
The jury was out for less than an hour and returned a verdict of $200,000, thus fairly compensating our client for her injuries.
Get Representation That Will Treat You Fairly
Traffic is a way of life in Southern Maryland. Whether you live in Calvert, St. Mary's, Charles, or Prince George County, you'll be stuck in traffic and susceptible to a car accident.
Not all accidents are severe or cause injuries. And not all injuries show up immediately after an accident, as was the case for our client.
If you have been injured in a car crash that was not your fault, take advantage of our firm's free, no-obligation consultation with one of our personal injury attorneys. We will be transparent with you and only take on your case if we believe the settlement offered is misaligned with the injuries you've suffered.
To find out what to expect in your Personal Injury case, schedule a free, no-obligation consultation. The law offices of Baldwin, Briscoe & Steinmetz handle accident and injury claims throughout Maryland.

---
The information contained on this page is provided as general information and does not constitute legal advice. The experienced attorneys at Baldwin, Briscoe & Steinmetz can assist you if you've been involved in a motor vehicle accident.
Schedule a free, no-obligation consultation for any injury-related claim. The law offices of Baldwin, Briscoe & Steinmetz handle accident and injury claims throughout Maryland.
https://www.baldwinbriscoe.com/wp-content/uploads/Traffic-Jam-on-Southern-Maryland-Highway.webp
400
800
Richard Steinmetz
https://www.baldwinbriscoe.com/wp-content/uploads/Baldwin-Briscoe-and-Steinmetz-Logo.svg
Richard Steinmetz
2023-07-07 11:43:55
2023-07-07 11:45:35
Rick Steinmetz Secures $200,000 Jury Verdict in Charles County Car Crash Case